Lean Hybrid Muscle - Increase Muscle Mass
Build muscle and burn fat with the Lean Hybrid Muscle program by Elliott Hulse
Lean Hybrid Muscle is the new program by Elliott Hulse to build bigger muscles and burn fat to get ripped. He combines elements of power lifting, bodybuilding, and sprint training to increase muscle mass.
If you have been looking for a solid program to put on more size and increase your muscle density...without gaining fat...it may be worth your while to checkout Elliot's program.
Here in our hometown of St. Petersburg, FL Elliott has achieved rock star status as street-jacked fitness trainer.
He runs a daily training session down in South St. Pete that is far from what goes on at the nearest Gold's Gym.
Using traditional equipment like Olympic weight sets, kettlebells, and squat racks...unconventional stuff like sand bags, truck axles, beer kegs...and interval training while pulling weighted dollies in the neighborhood streets, Elliot has transformed hundreds of suburban soft bodies into lean, athletic-looking guys.



You can increase muscle mass by combining training protocols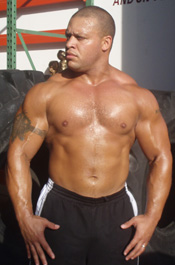 Elliott Hulse is a former college linebacker who now makes his living as a no-frills personal trainer. While other trainers meet their clients in air conditioned gyms and introduce them to the recumbent bike, Elliot has his guys bear-crawling on asphalt streets at 6:00am each morning in the Florida humidity.
His program to build more lean muscle mass evolved out of his own need to reduce his body fat percentage following two years of training for the Strongman Competition.
Taking the best training methods from bodybuilders, power lifters, sprinters and his own college football background, Elliott and friend Mike Westerdal spent a year developing the Lean Hybrid Muscle Building System.
By using himself as his own guinea pig, Elliott gained 34 pounds of lean muscle...and reduced his body fat to 11%.
If you've hit a plateau in your training to build more muscle mass, this program from Elliott Hulse might be what you are looking for.



Burn The Fat - Feed The Muscle: A proven program for getting chiseled abs