Burn The Fat Review
My Burn The Fat review can be summed up in four words: Buy it...It works.
This Burn The Fat review will be biased since I use Tom Venuto's best-selling plan to maintain strength and stay lean. It is easily the best program for men over 30 to lose belly fat and gain lean muscle density. (Guys in their 20's usually follow Rusty Moore's Visual Impact Muscle course.)
Since 2003, Burn The Fat - Feed The Muscle has increased its sales records each year for one reason: It flat out works for guys.
Are you looking to get back in shape? Are you fed up with looking soft and fleshy?
None of us likes to look in the mirror after a shower and see a smooth, heavier guy looking back at us.
Once you hit about 30, there is a noticeable decline in testosterone and human growth hormone. It is harder to stay lean...and much easier to start putting on male belly fat and love handles.
Add in the fact that the foods that taste the best (pizza, burgers/fries, pasta, sports drinks, etc.) seem to be everywhere, yet do nothing for our bodies except STORE FAT MORE EASILY.
They certainly do not build muscle.
Add in work schedules and family responsibilities, and there doesn't seem to be enough time to get in good workouts to counteract our bodies getting softer.
It doesn't have to be that way though. You can make significant changes in your body with the Tom's approach to nutrition and workouts.
I was fortunate to find Burn The Fat - Feed The Muscle when it first came out. (Like I said, this Burn The Fat review is going to be biased.)




Burn The Fat Review - The Program
* One look at Tom and you can see he practices what he advises. Although Tom is a gym owner, a magazine writer, and a college graduate with a degree in Exercise Science, he is also a competitor in natural (NO steroids) bodybuilding competitions.
* His Burn The Fat book is a detailed, 340-pages. There is no fluff.
* Tom's nutrition program is based on eating natural foods (you can eat as many green vegetables as you want), solid protein sources, and cutting way back on processed, refined carbs.
* You will definitely discover how sugar foods and starchy processed foods sabotage you fat loss efforts almost overnight. These are two food groups that DO NOTHING for muscular development.
* You will learn that each of us has a different metabolic type, and discover how to eat to enhance fat loss, as well as gaining lean muscle density.
* Weight workouts will focus on strength training through brief, intense routines that center on fundamental lifts.
* Forget about long, slow cardio. Do you really think you can get an athlete's build by walking on a treadmill, reading a football magazine? Burn The Fat cardio is based on fat-burning, testosterone-boosting interval workouts...just like athletes use.
Tom's book costs $39.95 (about the same as a pizza and pitcher of beer two Saturday's in a row) and can be downloaded immediately.
There are NO worthless supplements to buy. You do not have to spend hours in the gym, or trudging miles before sunrise to lose belly fat and become more muscular.
I've been following Tom's program for years. It has become a lifestyle. There no way I would ever change back.
I hope this Burn The Fat review has answered some of the questions you had about this course.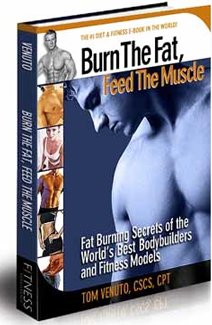 Go to Lose Belly Fat home from Burn The Fat Review page