Perfect PushUp
Increase upper body strength with Navy SEAL workouts

The Original Perfect Pushup, developed by Alden Mills, is based on his U.S. Navy SEAL workouts. The Perfect Push Up Bars build arm strength, build chest muscle, and increase upper body strength.


The
Perfect Push Up - Original
started out as a "As Seen on TV" product... and exploded into a legitimate strength-building compliment to work in the weight room.
While serving as platoon commander, Alden Mills, a 7-year United States Navy SEAL, participated in a study to determine why so many SEALs suffered training injuries. Once it was found that the aggravating injuries were due to antiquated training methods, the wheels began to turn in Alden Mills' head.
He developed the Perfect Push Up based on his knowledge of the switch to Functional Training for the demanding SEAL exercise routines used to increase upper body strength.



What sets The Perfect Push Up apart from other pushup bars?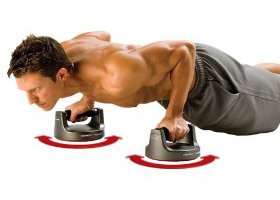 * Rotating handles reduce strain
* Stable 8" base of grip rubber
* Stabilizes the shoulder joint
* Engages rotator cuff muscles
* Comfortable rubberized handles
* Steel ball bearing movement
* Accelerates strength gains

* Engages more upper body muscles
* SEAL 2 Minute Drills form the base for the 21-day workout planner
The Perfect Push Up - Original is a biomechanical engineering masterpiece. It is an exceptional addition to your home workout equipment. It's light, sturdy, and durable.
* One note...using The Perfect Push Up will NOT turn you into a a 300 lb bench press club member. However, that's not the goal of these bars. They are designed to increase your functional strength by recruiting more upper body muscle.


Perfect Push Up Power 10 Advanced DVD


Go to Home Fitness Reviews from Perfect PushUps page


Go to Life Without Fat home from The Perfect PushUp page