If you want to workout your biceps and back, you need to include this exercise. It is an excellent multi-joint movement that puts incredible stress on the muscles that help you pull.

When looking for the best doorway bar to complete your home gym, you'll have a choice of two basic styles.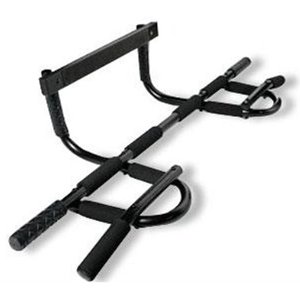 One will be constructed much like our recommended one in this style, the Maximum Fitness Gear All-In-One Doorway Chin Up Bar.
As you can see, it is curved on one side and has a flat bar that sits above your inside door frame. The rest of it overlaps your door trim on the side facing you and is held in place by your own weight when you hang on it to workout.
Before you purchase one of these, checkout the door frame wher you will be using it. The door needs to be wider than 28" and the inside trim CANNOT butt up against the wall to one side, nor can it be flush with the ceiling.
I have friends who swear by this style of doorway chin up bar. They use it daily, plus help their children with pullups each night and they never had a problem.
They took it right from the delivery truck, put it together, and started using it. Still, I would check.




The second type of doorway bar is actually my favorite. It is the TKO Doorway Pull Up Bar. I love it.
I guess I am old school all the way, because this is the type of pullup bar I had starting in junior high...and continuing through adulthood.
Some people do not like these because they come with brackets that need to be screwed into the inside door frame to hold the bar. That never bothered me. Every time we moved I just removed them, puttied the holes, and painted over them. It was never a big deal.
Also, some of my friends complained they had to take a much narrower grip when using mine because it was only as wide as the door, it does not overlap like the Maximum Gear Bar.
To me, that was not a big deal either. When I wanted to do wider pullups, I'd just go to the park down the street.
As a matter of fact, I started my daughter doing chins on my old one when she was just starting to learn how to grip. I'd hold her by the hips and got her use to the motion. It was an every night ritual for many years.
Either me or my wife would spot her and help her do 10. By the time she was in kindergarten she could do 5 by herself. During that summer she was doing a set of eight, then another of five.
We never thought much of it until the PE teacher called when she had physical fitness tests at the end of 1st grade...and said she did more than any boy from grades 1-8.
She did 14! All the way up...all the way down, just like we practiced. You could have knocked me over with a feather.


The best pullup bars will make you stronger and help you build lean muscle mass

I want to be real with you. I have friends who use both of these with their Turbulence Training Workouts and others who use them with their P90X Extreme Home Fitness Workout Program, but they are not looking to build bulk.
All of us are into training like an athlete...burning fat and building lean muscle mass, not looking like professional wrestler. I do not want you to think that doing intermittent sets throughout the day will put 30 lb slabs of muscle on your shoulders and arms. It doesn't work that way. However, you will definitely get much stronger and you will develop rock hard muscles by adding pullups to your daily routine.


What are the best Push Up Bars to use at home or when traveling?


Go to our Home Fitness Reviews from the Best Pullup Bars page


Go to Life Without Fat home page from the Best Pullup Bars page