Best Workout Gloves
Harbinger weight lifting gloves work best for us
The best workout gloves will benefit you in the gym. To us, Harbinger weight lifting gloves give you the greatest protection, as well as keeping your hands from slipping.


We've found the
Harbinger Mens Anti-Microbial FlexFit Weight Lifting Gloves
to be the best gloves to use in the gym.
Harbinger seems to set the industry standard, and these anti-microbial weight lifting gloves are light, tough...and don't smell! (That in itself is pretty amazing.)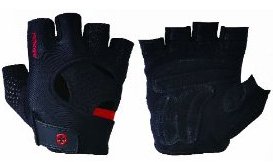 * All-purpose gloves
* Sizing is liberal
* Tech-Gel pads mold to you hand
* Light weight - Less Bulk
* Anti-microbial Lycra fights odor
* Mesh back
* Velcro wrist enclosure
* Easy On - Easy Off
* Machine washable
* Palms don't slip on Olympic bar
* Great for weighted chins and dips
I like these Harbinger workout gloves because they do not slip sideways on the chrome Olympic bar. Also, I do a set of dips and pull-ups after interval training outside, and even though I'm a ball of sweat, they keep my grip solid. On days when I do weighted chins and dips, they seem to lock right on the pipes.
Trust me, it is a real plus when I can wipe my face and they DO NOT smell like the inside of a moldy cowboy boot like other weight lifting gloves I've owned.
I've thrown mine in the washing machine a few times, however from habit, I still set them on top of my shower curtain bar to dry.


Go to our Home Fitness Reviews page from the Workout Gloves page


Go to Life Without Fat home page