Best Jump Rope To Burn Belly Fat
The Everlast Leather Jump Rope will elevate your home workouts
To me, the best jump rope to burn belly fat is the Everlast Leather Jump Rope. The benefits of jumping rope are huge. A quality fitness jump rope is a smart addition to home workouts.

The
Everlast Leather Jump Rope
has been a staple of fitness programs for many decades.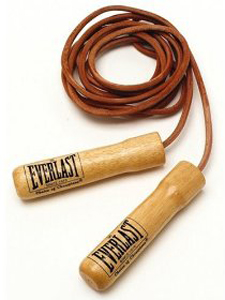 * Classic, ageless design.
* The rope is made of genuine leather.
* The handles are polished and contoured.
* Movement is fluid and easy.
* The handles and rope are weighted.
* Spins fast for more intense workouts.
* Easy to store. ALWAYS hang it.
* Extremely portable. Great for travel.
* Jumping rope is a low-impact activity.
* Burn 250-500 calories in 30 minutes.
* Easily learn new step patterns.
* Extra speed is gained through precision steel ball-bearings.


Go to Home Fitness Reviews page from Best Jump Rope page


Go to Eliminate Belly Fat from Fitness Jump Rope page