Best Running Shoe
ASICS Gel 1140 is comfortable and long-lasting
To me, the best running shoe is the ASICS Gel 1140. For comfort and stability it is continually ranked as the best ASICS running shoe under $100. I wear the ASICS 1140 for interval training and it has held up great.


The
ASICS Men's GEL-1140 Running Shoe
is sturdy and can take a pounding.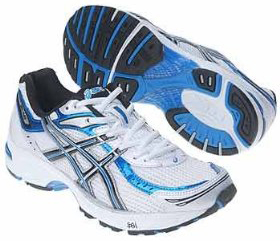 * Synthetic/mesh. Rubber sole.
* Very comfortable.
* Gel Cushioning System.
* Absorbs shock.
* Good traction.
* Open mesh = breathability.
* Lacing is comfortable.
* Good-looking running shoe.
* Great all-around shoe.
* One note: The ASICS Gel 1140 is heavier than a lot of other shoes...but I think this aids in the comfort. I am 6'2" - 185 lbs, but I've seen guys weighing 200+ in these, also.
I run on asphalt, the Florida beach, concrete bridges, and all-weather tracks and mine have NOT had a bit of chipping on the sole, or ripping in the mesh. Maybe I've been fortunate, however, I have always used this brand and the ASICS Gel 1140 has been the best running shoe for me.
I wear an 11 in a regular shoe, but have always purchased an 11-1/2 ASICS running shoe. They fit me fine. I do not slide around and my toes have never gotten banged against the toe-box.
These outstanding running shoes list for close to $89, but I have found them on sale for $69, at times. I saw no reason to spend $150 on ASICS Men's GEL-Kayano 15 Running Shoe when the Gel 1140 did such a great job for me.
Since I run a lot of intervals, I also use SPENCO Orthotics running shoe inserts. They make for even LESS pressure on my feet and have kept me away from shock-related injuries. They also seem to fit better than others I have used and have NOT caused me any blisters.


Go to Home Fitness Reviews from Best Running Shoe page


Go to Life Without Fat home from Best Running Shoe page