Can Yoga Help You Lose Weight?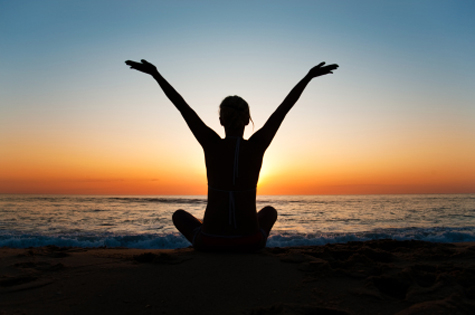 You cannot lose weight doing yoga just by itself, but it can help women get rid of unwanted pounds
Can yoga help you lose weight? Yes, it can. However, you cannot lose weight with yoga just by itself.
The idea of "weight loss yoga" is a myth that is perpetuated by fitness centers offering yoga classes, and marketers offering phony courses.
Advertisements showing a trim and fit woman in a cute outfit...sitting in a peaceful pose on a soft mat...certainly generates more interest than a woman wiping sweat from her face after a set of squats with a barbell.
Although almost everyone understands you must engage in some sort of vigorous activity to help stimulate fat loss, the idea of being sweaty, out of breath, and red in the face for 30+ minutes is just not as appealing.
For this reason, savvy marketers exploit yoga (which can entail some strenuous poses that will challenge you) as a viable activity for women's weight loss. Who wouldn't be more attracted to peace and serenity in a soft setting, as opposed to being bent over with hands on knees trying to catch your breath?
It is no wonder women spend time online searching for terms such as, "Can you lose weight doing yoga?"..."Will yoga help me lose weight?"...or, "Can you lose weight with yoga?"



How Can Yoga Help You Lose Weight?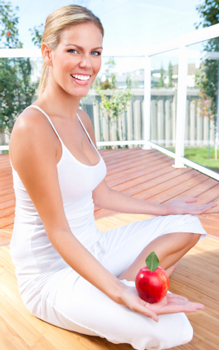 Although yoga, by itself, does not create near enough of a metabolic stimulus for hormonal activity to burn belly fat, it certainly can
help
you in other ways to reach your weight loss goals.
* First, yoga provides an excellent connection between body and mind. When women become attuned to greater healthfulness, they are far more conscious about making better food choices.
* Yoga provides both a physical and mental break from vigorous exercise. It allows you to "re-charge" in order to meet the challenges of evolving workouts.
* The benefits of yoga include an elevated mindfulness, increased flexibility, increased balance, and insightful breathing techniques.
* Yoga contributes to "positive psychology." Mental benefits such as heightened awareness, positivity, and a strengthened connection with Nature all support an increase in personal well-being.
* Yoga can help you lose weight by increasing your awareness of physical movement and releasing therapeutic hormones to elevate your mood toward activity.
* Yoga is extremely beneficial as a protocol to minimize injury, and help rehabilitate strains and sprains.
So, in answer to the question, "Can yoga help you lose weight?" It definitely can when used in combination with a proven program of optimal nutrition and consistent dynamic exercise.




Other Topics of Interest
Is It Possible To Lose Weight Without Exercise?
Can You Lose Weight By Eating Less?
Losing Weight The Unhealthy Way
The Fastest Way To Get Skinny
What Is The Easiest Diet To Follow?
Go to Lose Belly Fat home from Can Yoga Help You Lose Weight page
Filed Under:Can Yoga Help You Lose Weight?